Dec 31: Tummy Time with Trinity and Tessa
Happy New Years!
Took little Tessa to Wic on the 2nd
And picked up mail with a new baby ourfit
The 3rd was my first day back at work
The 4th I woke up early enough for the sunrise
And we stayed up late to make laundry soap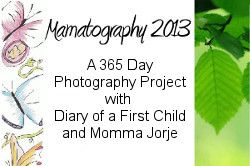 This post is part of the
Mamatography 2013 Project
with
Diary of a First Child
and
Momma Jorje
.
We are taking (at least) a photo a day to keep a record of our year. Join us at any point during the year and start sharing your own daily photos!
***
Without further ado, here are the Mamatography 2013 participants!