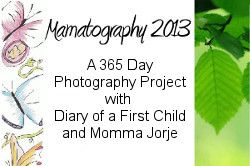 This post is part of the
Mamatography 2013 Project
with
Diary of a First Child
and
Momma Jorje
.
We are taking (at least) a photo a day to keep a record of our year. Join us at any point during the year and start sharing your own daily photos!
Jan 5th: Tessa is the most complacent baby I have EVER bathed
Jan 6: Our first grocery shopping trip of the year
Jan 7: This is the parking spot my fiance and I occupied week after week when I was pregnant at the OB/GYN






Jan 10: Jill and Tessa on the couch
Jan 11: Tessa likes Daddy a little more than she likes Jill
I didn't get a picture in on the 8th. I also noticed this week that I can't seem to get a week where I have a picture of each of the girls, just two at a time.
Finally, I'm
instagramming
my food as a project with my mom. My instagram is almost totally Tessa and food.
***
Without further ado, here are the Mamatography 2013 participants!