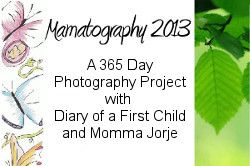 This post is part of the
Mamatography 2013 Project
with
Diary of a First Child
and
Momma Jorje
.
We are taking (at least) a photo a day to keep a record of our year. Join us at any point during the year and start sharing your own daily photos!
Another picture for the 11th
The only picture I took on the 12th
Jan 13th
Jan 13: Making Cupcakes
Jan 14: ice on the driveway
Jan 15: A belated birthday for Trinity
Jan 16: In which I discover my Christmas purse can hold envelopes. (My old one couldn't)
Jan 17: A Trip to the Post Office
***
Without further ado, here are the Mamatography 2013 participants!