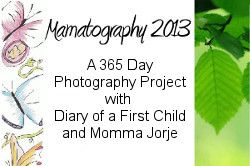 This post is part of the
Mamatography 2013 Project
with
Diary of a First Child
and
Momma Jorje
.
We are taking (at least) a photo a day to keep a record of our year. Join us at any point during the year and start sharing your own daily photos!
Jan 19: Going to Grandpa's
Jan 19: At Grandpa's
I made the effort to put them all in a picture
Jan 20: With Grammy at IHop
Seeing Uncle
Jan 21: Tummy Time!
Jan 22: Grocery Shopping again
Jan 23: Blackened Chicken and Red Beans and Rice
Jan 24: I went to the courthouse for work and scanned all day long
Jan 25: Me, Tessa, and Jill
***
Without further ado, here are the Mamatography 2013 participants!