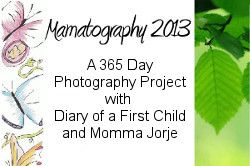 This post is part of the
Mamatography 2013 Project
with
Diary of a First Child
and
Momma Jorje
.
We are taking (at least) a photo a day to keep a record of our year. Join us at any point during the year and start sharing your own daily photos!
Jan 26: Drying Diapers
Birthday Cake!
Jan 27: Jill made me breakfast
Jan 28: A series of Tessa shots with a napkin
Jan 29: My toe with Tessa's
Jan 30: When I came home to sleepy kids....
...Jill and I colored...
And a breaker blew.
Jan 31: One on one with Trinity at the grocery store
February 1: they love each other.
***
Without further ado, here are the Mamatography 2013 participants!