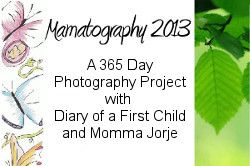 This post is part of the
Mamatography 2013 Project
with
Diary of a First Child
and
Momma Jorje
.
We are taking (at least) a photo a day to keep a record of our year. Join us at any point during the year and start sharing your own daily photos!
Feb 2: Hot Date with the Love of My Life. (Our anniversary a few months late)
Feb 3: Avocado Pudding
Feb 4: The view on the way to work. I stopped in the middle of the road, I'm not driving here.
Feb 5: Jill and Tessa
Feb 6
Feb 7: MISS MARY MACK MACK MACK
Feb 8: Lighting the Smoker for the Turkey
***
Without further ado, here are the Mamatography 2013 participants!