Sorry, my computer crashed. And then I switched to Windows 8. Anyone know how to easily transfer pictures from phone to computer with Windows 8? I'm having a ton of problems.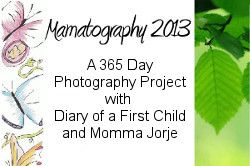 This post is part of the
Mamatography 2013 Project
with
Diary of a First Child
and
Momma Jorje
.
We are taking (at least) a photo a day to keep a record of our year. Join us at any point during the year and start sharing your own daily photos!
Feb 9: Teaching the Baby to Read
Feb 10: Seeing Juju


Feb 11: Naptime
Feb 12: The week before I started exercising
Feb 13: Ash Wednesday
Feb 14: I took the day off work for Valentine's Day and spent the whole thing with family
Feb 17: my baby comes back from a weekend trip
***
Without further ado, here are the Mamatography 2013 participants!
Overall rating
This site has no rating
(not enough votes)